Overview
This User Guide intends to present you all useful features of the operating software embedded into the main system unit as we used to call it the EZtrack Hub; the document will guide you through every step to configure and use your system once you have unpacked it!
Please note that the EZtrack User Guide has been released as the standard Vive-based tracking configuration. Whereas most of the parameters will remain common to the system regardless of the type of tracking configuration or sensor installed (Vive, Antilatency, Vicon, OptiTrack, etc..), some parameters are remaining inherent to the configuration or tracker being in use.
You can also have access to our Antilatency section within the main parent page of the Wiki, as well as our EZtrack Quick Starter Guide being based on the standard Vive tracking combo, as is the present EZtrack User Guide.
What's in the box ?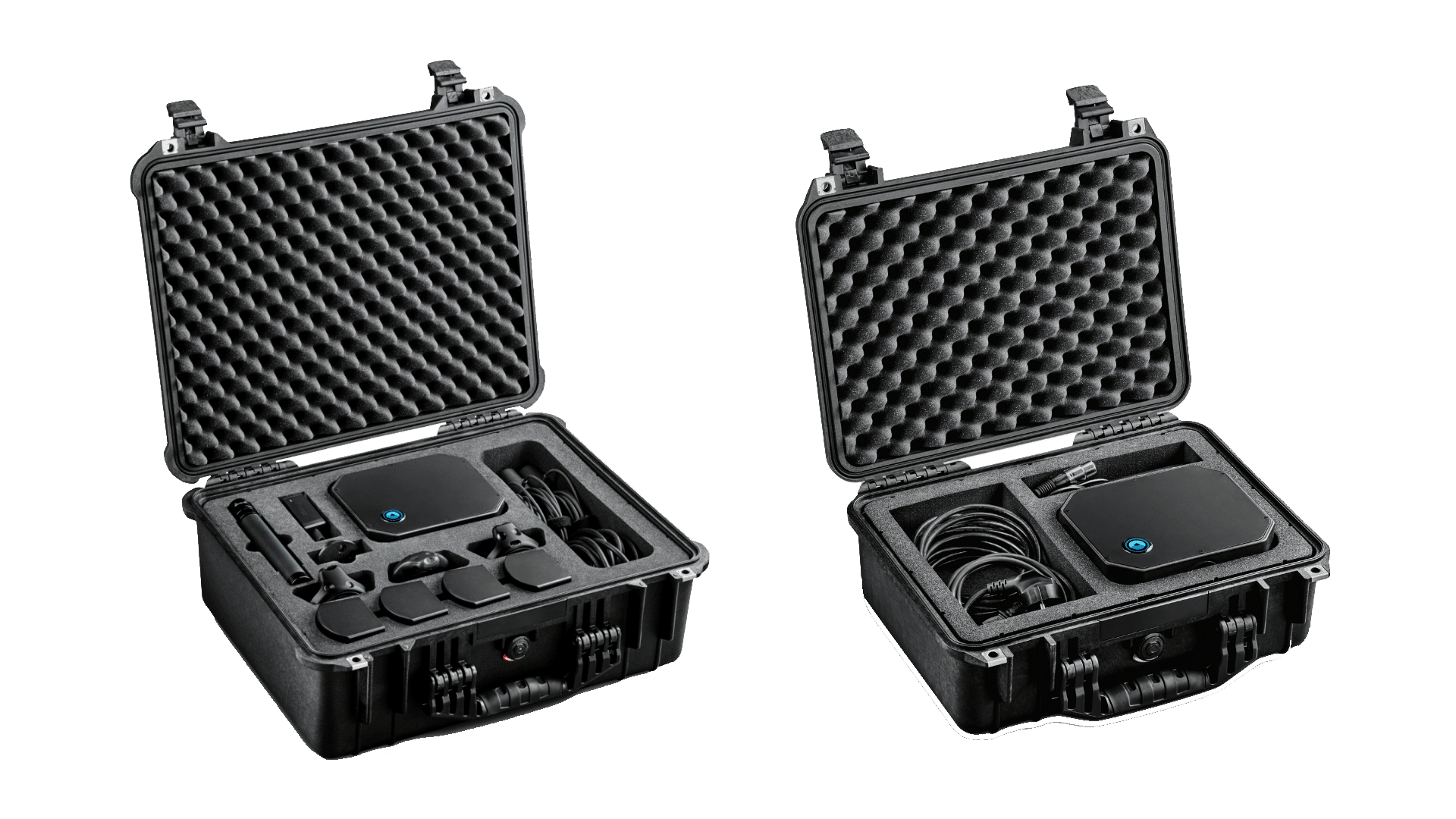 When you unpack your EZtrack system, you'll find the following components, depending on the kit provided:
EZtrack® COMPLETE STUDIO BUNDLE
MAIN HUB UNIT
• x1 Pelicase Box 1550
• x1 EZtrack® Hub Unit + mounted VLock plate
• x1 DC adapter with 1 Schuko cable

VIVE TRACKERS & STEAMVR BASE STATIONS
• x3 Vive v3.0 Trackers for camera/object/talent tracking
• x1 pad with a 1/4" Pas Kodak screws set for mounting the camera tracker
• x2 USB Dongles + Bases
• x3 USB type C cables
• x4 Lighthouse 2.0 Base Stations with 4 DC adapters
OPTICAL LENS CABLE
• x1 Canon/Fujinon/Angénieux Lens cable (at choice)

HARDWARE MOUNTING KIT & VARIOUS ITEMS
• x1 USB charger
• x4 15mm Rods: 2 as 30cm length and 2 as 15cm length
• x6 Dual Rod clamps
• x2 Cheese plates: 1 Small and 1 Large
• x1 Extendable stick provided as 2 parts: handgrip + tripod feet
• x1 set of 24 screws at total: x12 small 1/4" Pas Kodak as 10mm length and 12 tall 1/4" Pas
Kodak as 18mm length
• x1 Allen wrench


EZtrack® VIVE ESSENTIALS KIT
MAIN HUB UNIT
• x1 Pelicase Box 1550
• x1 EZtrack® Hub Unit + mounted VLock plate
• x1 DC adapter with 1 Schuko cable
VIVE TRACKER FOR CAMERA
• x1 Vive v3.0 Tracker for camera (pre-flashed by oARo)
• x1 mounting pad with a 1/4" Pas Kodak screws set
• x1 USB type C cable
OPTICAL LENS CABLE
• x1 Canon/Fujinon/Angénieux Lens cable (at client's choice)
HARDWARE MOUNTING KIT
• x4 15mm Rods: 2 as 30cm length and 2 as 15cm length
• x6 Dual Rod clamps
• x2 Cheese plates: 1 Small and 1 Large
• x1 set of 24 screws at total: x12 small 1/4" Pas Kodak as 10mm length and 12 tall 1/4" Pas
Kodak as 18mm length
• x1 Allen wrench


EZtrack® HUB STARTER KIT
• x1 Pelicase Box 1450
• x1 EZtrack® Hub Unit + 1 mounted VLock plate
• x1 DC adapter with 1 Schuko cable
• x1 Canon/Fujinon/Angénieux Hirose Lens cable (at choice)


EZtrack® HUB STARTER KIT – ANTILATENCY EDITION
• x1 Pelicase Box 1450
• x1 EZtrack® Hub Unit + 1 mounted VLock plate
• x1 DC adapter with 1 Schuko cable
• x1 Canon/Fujinon/Angénieux Hirose Lens cable (at choice)
• x1 Antilatency's Alt tracker mounting kit for camera:
▪ x1 Small-sized Cheese Plate
▪ x2 Dualrod clamps
▪ x2 Rods as 15cm length
▪ x1 Custom Alt tracker Pad + screws set
▪ x1 Set of screws as 4 1/4" Pas Kodak
▪ x1 Allen wrench